Since the significant drop in the real estate market activity in April, which saw a decline in market absorption rates of 88% to 67% over a single month, we have been seeing steady declines each month in the number of listings that are sold in the Calgary residential market.
That all changed in October.
AGGREGATED ABSORPTION RATES – CALGARY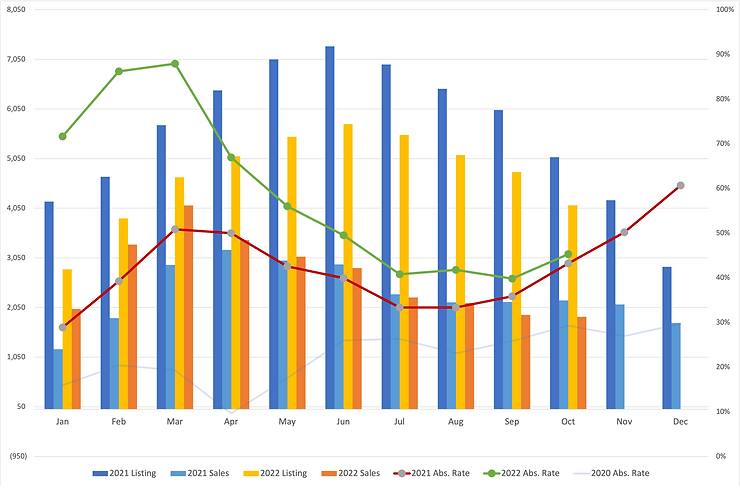 In the month of October, we saw declines on both sides of the equation. If you recall, the absorption rate is determined by taking the number of sales in the month and dividing that by the number of available listings.
In October, this rate rose 5% to sit at 45%.
Meaning that for nearly every 2 homes for sale in Calgary, one has been purchased this month.
This is an increase from our lowest point of September of 40%, which we discussed in previous breakdowns as a seasonal effect due to more people enjoying the summer and travelling. Generally, the summer months are singled out as the months with the lowest activity.
Now let's break down how these absorption rates can tell us what is really happening with our real estate market.
In the month of October, we saw the number of listings decline by 14% while the number of sales decline by 2% month over month. When listings are lower than sales, that means we are in a scarcity market where the replenishment of new inventory cannot cater to the demand of buyers, leading to higher absorption rates and as we will see a bit later, higher prices.
Year over year, our inventory has shrunk by 24% while buyers purchasing homes has shrunk by 18%. Shrinking inventory once again outpaces shrinking sales.
You might be asking yourself, "he's using the word shrink a lot, maybe other things like price are also shrinking?"
And that is the case from our highs that I mentioned earlier but is not the case when we look at the median pricing across the segments in Calgary.
MEDIAN PRICING – CALGARY – ALL SEGMENT




| | | | | |
| --- | --- | --- | --- | --- |
| | | | | |
| | | | | |
| | | | | |
As the above shows, in all but one segment, our pricing has increased month over month.
If we isolate the detached market, we are currently sitting at a price point that is like where we were in July of this year.
This recovery in price is due to the faster-paced decline of inventory in our market and our inability to recover the level of inventory available for today's buyers.
The attached segment has seen declines, but this is not a significant one. Over the last three months, the price for attached homes has remained close. This segment is the in-between and is usually only of interest to buyers that cannot purchase a detached home or are wanting to upgrade from a Townhome. Whereas both of those segments have a buyer for them.
Now that we have looked at the numbers, what do we extract from this data to gauge where the market is right now?
THE BREAKDOWN
The rising cost of borrowing is affecting many that are entering the market. However, the sentiment that I'm seeing in my business is most buyers are still going the variable rate route. They understand that these types of interest rates cannot be maintained for a long period of time.
As the rates continue to increase, the discount that lenders provide for these new mortgages are fixed, for the term of the mortgage. Therefore, buyers are willing to take the short-term hit on managing the mortgage for the benefit of finding a home now.
The appetite for buyers to find a home in all segments is still very strong when the cost of rent continues to rise. Mortgage payments are more stable, are for longer terms, and allow homeowners to build equity in their homes. Whereas rents are short-term, unpredictable, and don't allow the tenant to have a stake in the value of the home.
But the issue of rising interest rates is giving sellers a cause to pause and reconsider their situation. Most sellers are either looking to sell their home to retire and downsize or move up to accommodate changes in their lives, for example, more space for kids. The issue for both of these categories is that there is a shortage of inventory to downsize to, and the added financial obligation of a bigger mortgage to move up into their next home.
There are also many sellers that renewed their mortgages last year and have an incredible rate that they will not want to mess with for the next 4 years.
When sellers are spooked, the inventory levels drop.
The other issue we are seeing right now is around the first-time home buyers that are having to purchase with 5-20% down and need to leverage significantly more to purchase their first home.
Each time the rate increase, the prime rate increases, leading to the qualifying rate increasing, dropping the purchasing power of today's buyers.
But when purchasing power drops, and prices are rising, there is a disconnect in the market that is leading to the market we are currently in.
So what can you do about it?
BUYERS
It is a difficult time now to purchase a property, especially single-family. But if you are able to afford a single-family home for around $580,000, there might be other options for you to still get a home you enjoy and build generational wealth for you and your family.
Most buyers I have been working with are very conscious of their budgets. In fact, It is a whole section of my buyer consultation with them that we discuss the budget and what works for them.
The reason I'm emphasizing this is that you have an opportunity to purchase an attached home, townhome, or even apartment for much less. You also can put more money down and can pay that property off sooner while you live there.
What this does is create a property that you can refinance to leverage for a second property while renting it out. Or keep it in your family down the road for generations after you to enjoy and benefit from.
It might not be ideal now, but when inventory levels increase, the opportunity will be present for you to find that perfect home for you, but also give you the opportunity of a portfolio of properties for your family to enjoy.
Just my two cents 😊
SELLERS
Upsizing right now might not be the right idea. Between builders having labour and material issues and the rising cost of mortgages, taking on more of a financial burden is not the best solution. However, if you absolutely need to make a move for a growing family or relocation for a job, for example, it is your market. You will still be able to get bids on your home, depending on what segment you are in.
There is still a very strong appetite in the market for your property and you should receive a great return on your property. If you'd like to chat about how we can achieve that, send me an email and let's connect.
Downsizing buyers, this is still your time. Your single-family home for years where your family has grown and moved out of is still in great demand. But you need a plan.
If you are wanting to move into a bungalow, for example, this is a bit harder to do with the market we are in. But I have a plan that I've worked with several sellers that can assist you with this. Feel free to reach out and we can discuss your options.
But if your plan is to downsize into a condo/apartment near family or a church, this market is still in your favour. You can sell and purchase while also having the financial freedom you deserve in a time with so much uncertainty.
There are still great opportunities for both buyers and sellers in this market. I hope we can connect and I can help you find the solution that works best for you!
THANK YOU!
Thank you as always for your time. I know there are many outlets out there where you can get market information, and I appreciate the opportunity to be the one you can trust and rely on.
If there is anything I can do for your real estate or mortgage needs, I hope you know it would absolutely be my pleasure, and I would love to connect. Please feel free to send me an email anytime.
Thank you, take care!
Aly